Event Info
The Holy Cross Neighborhood is hosting a signature street festival that celebrates Wine & Cheese. This will be a family friendly event with live music, a kid zone, cheese, wine, vendors, and a beer garden. This will be the beginning of a long-standing tradition for Holy Cross to celebrate food, neighbors, and community, inspired by Kelly Wensing, a pillar of our community, ardent supporter of the local chefs, and a wine & cheese enthusiast!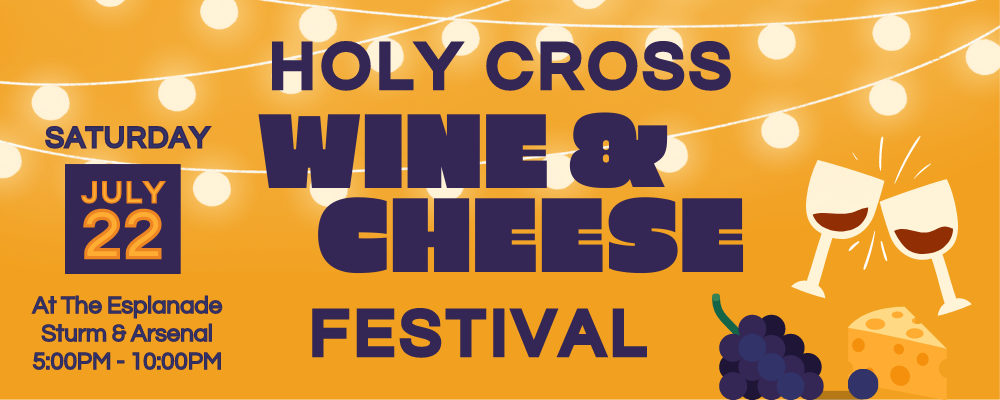 Buy sample tickets at a discounted price
Sample the cheese and wines at discounted prices by buying ticket packs early! A ticket pack is 5 tickets for $15. Each ticket can be exchanged for a sample of cheese or wine (for those 21+). Act now…the sample ticket prices increase to $20 the day of the event.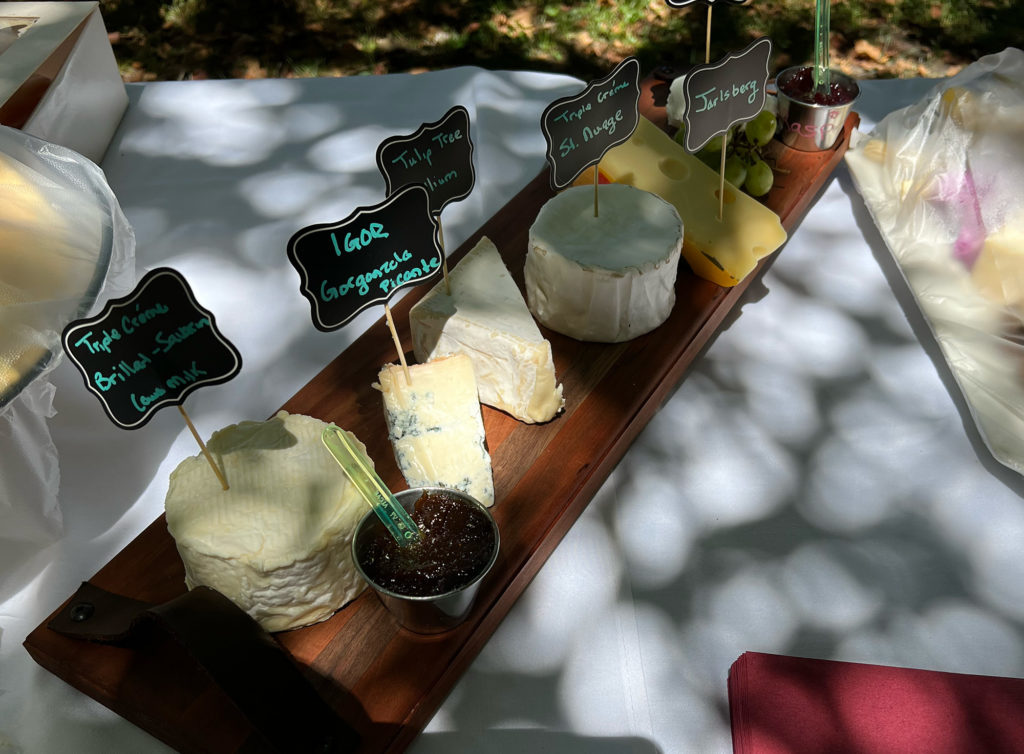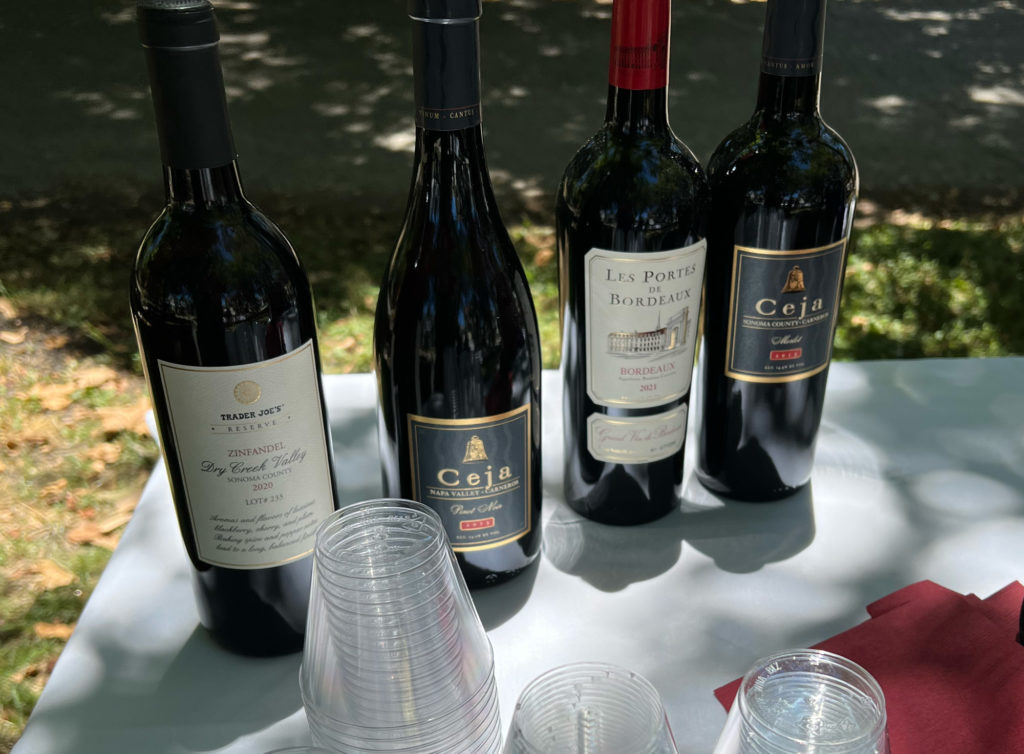 Help Support the 2023 Wine & Cheese Festival!
Volunteer
Interested in helping out? Fill out the volunteer sign-up form. We'll reach out closer to the event to let you know what volunteer positions are available.
Frequently Asked Questions (FAQ)
Is attendance free to the Wine and Cheese festival free?
Yes, it's free to attend, listen to music, kid zone but all food/beverage is for purchase. We're using a blend of direct purchase and sample ticket packs. IDs required for alcohol consumption.
Why do I need to buy sample ticket packs?
Samples of wine and cheese will be available via tickets. 1 ticket = 1 sample. There will be 20 wines to sample and 2 cheese vendors offering samples. Ticket packs are 5 for $15 when purchased ahead of the event. On July 22 they will increase to 5 for $20. By purchasing ahead, you help the festival organizers plan how many samples to have on hand!
Will there be other food and beverage options?
Yes! We have 4 types of wine for purchase by the glass, SunKing beer, Ash & Elm Cider, water, juice or lemonade, cheese plates and the IndyFresh catering food truck making wood fired pizzas. Additionally, some of the artisan vendors will have pre-packaged items.
What forms of payment will be accepted?
Both cash and cards will be accepted. Please no coins and we encourage cashless methods.
Are dogs allowed at the Holy Cross Wine and Cheese Festival?
We welcome well-behaved and leashed dogs. IndyHound, one of oursponsors, will provide dog comfort stations (i.e. water bowls)
What kinds of wine will be available?
Johnson Brothers will have the following for sampling:
Veuve Ambal Cremant
Pieropan Soave
Pine Ridge Chenin/Viognier*
Evolution Pinot Noir
Renatto Ratti Barbera
RNDC will have the following for sampling:
Campuget Traditional Rose*
Santi Pinot Grigio
Glazebrook Sauvignon Blanc
Mer Soliel Silver
Boen Tri-County Pinot Noir
Crossroads Vitners will have the following for sampling:
Scarpetta Frico Frizzante Canned Sparkling Wine*
Biokult Naken
Broadbent Vinho Verde
Poggio Anima Rosato
Scarpetta Frico Lambrusco Canned Red Wine*
SWGS will have the following for sampling:
Adami Prosecco
Louis Latour Ardeche Chardonnay
Yealands Estate Sauvignon
Yealands Estate Sauvignon
La Petite Perriere Pinot Noir*
*Wines with an asterisk will also be available for purchase by the glass for $7.
What kinds of cheese will be available?
TBD – check back for an update soon!
Where is the ride share drop-off area?
State and Sturm. Please use this address: 445 N. State Ave, Indianapolis, IN
It's hot in July! How will I relax in the heat?
Good news! Most of the event will be in the shade. The festival will have limited chairs/tables available. Attendees should feel free to bring chairs or blankets to sit on.
What are the parking options?
There will be limited street parking available. We recommend carpooling, ridesharing and biking.
Are kids welcome?
Yes, kids are welcome. There will be a dedicated kids area with face-painting and bounce house (all kids must be accompanied by an adult 21+).
What happens with the profit made at the Wine and Cheese Festival?
This is a neighborhood fundraiser so any proceeds will go towards next years events and the Holy Cross neighborhood for art installations, beautification, etc.
Upcoming
Nothing upcoming at the moment.
Check back later.