Holy Cross Spring 2021 Neighborhood Cleanup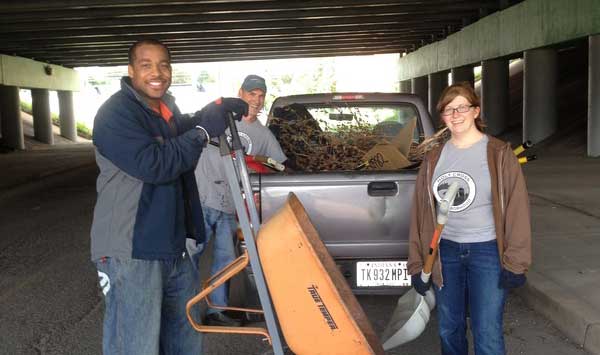 Join your neighbors and help keep the neighborhood beautiful. This year, we'll be working in safe, socially-distant teams to pick up trash and other debris around the neighborhood.
Plus, we'll also be anchoring and mulching the Sturm Ave. Esplanade sculpture and picnic table area.
How to sign up
Sign up for either the clean-up crew or the mulch crew.
Clean-up crews will work in small teams and travel to different places around the neighborhood to perform clean-up duties.
Trash bags, gloves, and pickers will be provided.
Feel free to bring your own picker or bucket if you own one as, depending on registration, supplies may be limited.
Mulch crew will work on the Sturm Ave. Esplanade to help anchor the sculpture and spread mulch across the small park. A few things to note about the Mulch crew:
Slots are limited (to be able to maintain social distancing). Note: there is a waitlist available.
Volunteers need to provide their own rakes or shovels—something that you feel can adequately move and spread mulch.

Pre-clean and prep
Residents are encouraged to pre-clean street gutters/curbs and storm drains, especially if they cannot attend Saturday:
Residents are welcome to pile any limbs or yard trimmings with the debris cleaned from the curbs
Items do not need to be bagged
Please make sure your piles are about knee high and 12 inches from the curb so they are large enough and accessible to the picker trucks
No solvents, rocks, electronics, or tire rims are allowed 
Items should be piled/staged no later than 8 AM Saturday so ensure the city is able to take them during the cleaning on Saturday.
A staging area for debris (less listed above) is set for the center turnaround of the Esplanade.
Residents can feel free to drop off items at that area (please leave on the street/concrete, rather than in grass)
Regarding safety
Please note that in order to host this event safely, and to comply with current city/county orders, face masks (worn over the nose and mouth) will be required for the entirety of this event.